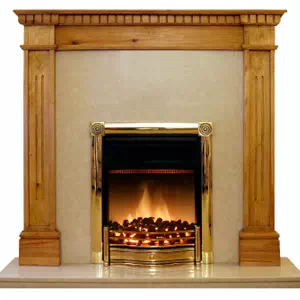 Fireplaces
There are two major types of wood-burning fireplaces, traditional masonry fireplaces that are typically built of brick or stone and are constructed on site by a mason; and "low mass" fireplaces that are engineered and pre-fabricated in a manufacturing facility prior to installation. Low mass fireplaces are widely used in new home construction in the United States and provide a lower-cost option for homeowners. Most fireplaces, whether masonry or low mass, are not used as a primary source of heat; their function is primarily for ambiance and secondary heating. In fact, most traditional open fireplaces lose over 90 percent of the heat of the fire out the chimney along with much of the heated air in the room. Fireplaces should not be confused with fireplace inserts which are basically wood stoves that have been converted to fit in existing fireplace openings.
Fireplaces are one of several appliances covered by EPA's Burn Wise Program.

EPA's Wood-Burning Fireplace Program
The EPA wood-burning fireplace program encourages the development and sale of a new generation of lower-emitting fireplaces that burn cord wood. EPA's fireplace program covers masonry and prefabricated (low mass) fireplaces.

EPA qualifies cleaner burning fireplaces under this voluntary program based on testing conducted by approved test laboratories and certified by an ISO-accredited third party laboratory.
Based on test results for each model, EPA has qualified several cleaner burning fireplaces. Qualified models emit no more than 5.1 grams of particle pollution per kilogram of wood burned (g/kg) and are over 70% cleaner than existing wood-burning fireplaces. While EPA does not endorse one cleaner-burning fireplace over another, they encourage builders and others to select from the list of qualified fireplaces:
New, EPA qualified units carry a hang tag on the front of the fireplace to demonstrate that these models have met EPA qualifications to be considered cleaner burning:
Phase 1 Orange Tag. The Phase 1 orange tag means the model pollutes about 57 percent less than unqualified models.

Phase 2 White Tag. The white tag indicates units that have met more stringent requirements and are approximately 70 percent cleaner than older fireplace models (understanding the white tag).
State and Local Restrictions
Recognizing that fireplaces are primarily used for ambience, some communities have placed restrictions on new fireplace installations. The most common and least restrictive action is to limit use at those times when air quality is threatened. The appropriate agency issues an alert, similar to the widespread Ozone Action Day alerts. Contact your state or local air quality agency for clarification on the types of wood-burning appliances that maybe installed in your area and when (i.e., no-burn days) they maybe used or visit EPA's Where You Live page for more information.

More Resources
EPA's Burn Wise website. A partnership program of the U.S. Environmental Protection Agency that emphasizes the importance of burning the right wood, the right way, in the right wood-burning appliance.
Strategies for Reducing Residential Wood Smoke (2009). This document was written for state, local and tribal air pollution control officials to have a comprehensive list of strategies to help communities reduce wood smoke from residential heating. It provides education and outreach tools, information on regulatory approaches to reduce wood smoke, as well as voluntary programs to change out old, inefficient wood stoves and fireplaces.
EPA's Burn Wise FAQs. This page provides answers to questions EPA has received about wood-burning appliances and wood smoke.