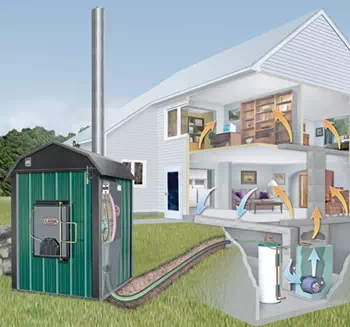 Masonry Heaters. A masonry heater is a site-built or site-assembled solid-fueled heating device, consisting of a firebox, a large masonry mass, and a maze of heat exchange channels. It stores heat from rapidly-burning fires within its masonry structure, and slowly releases the heat into the home throughout the day. Masonry heaters currently do not require EPA certification. The Masonry Heater Association of North America can provide you with more information on masonry heaters and installers near your area.
Hydronic Heaters
Hydronic Heaters (also called outdoor wood heaters or outdoor wood boilers) are typically located outside the buildings they heat in small sheds with short smokestacks. Typically, they burn wood to heat liquid (water or water-antifreeze) that is piped to provide heat and hot water to occupied buildings such as homes, barns and greenhouses. However, hydronic heaters may also be located indoors and they may use other biomass as fuel (such as corn or wood pellets)
Hydronic heaters are one of several appliances covered by EPA's Burn Wise Program.
New Source Performance Standards (NSPS)
Although wood stoves have been regulated since 1988 by federal standards referred to as New Source Performance Standards (NSPS), hydronic heaters were unregulated until 2015. Prior to 2015, hydronic heaters were "qualified" under an EPA voluntary program.
On February 3, 2015, EPA strengthened its New Source Performance Standards (NSPS) for residential wood heaters to make new heaters significantly cleaner. The updates, which are based on improved wood heater technology that strengthen the emissions standards for new woodstoves also established the first-ever federal air standards for previously unregulated new wood heaters, including outdoor and indoor wood-fired boilers (hydronic heaters), indoor wood-fired forced air furnaces, and single burn-rate woodstoves. The final rule will phase in emission limits over a five-year period, beginning in 2015. T (See: FACT SHEET: Summary of Requirements for Woodstoves and Pellet Stoves | Controlling Air Pollution from Residential Wood Heaters | US EPA).
On April 2, 2020, the United States Environmental Protection Agency (EPA) published the finalized amendments to the 2015 New Source Performance Standards (NSPS) for New Residential Wood Heaters, New Hydronic Heaters and Forced-Air Furnaces (collectively referred to as "wood heating devices"). This rule amends the 2015 NSPS by removing certain minimum requirements for pellet fuels and clarifying a requirement regarding the use of unseasoned wood in pellet fuel production. (see Fact Sheet)
For more NSPS information, see Regulatory Actions for Residential Wood Heaters.
State Initiatives and Laws
With the increasing use of hydronic heaters nationwide, there is growing concern about the health and environmental effects of wood smoke. The burning of wood is known to produce a complex mixture of particulate and gaseous emissions. It can be a local problem because wood smoke is typically emitted close to the ground and is highly dependent on wind characteristics to dilute or disperse it. In response to these issues, many northern U.S. states and some southern states have implemented strategies to reduce air pollution from outdoor boilers. These strategies range from publishing good practices to enacting regulations with emissions standards (e.g., WA). Also, some states provide incentives such as rebates on purchases of more efficient units. See table below.
| | | | | | | | | | |
| --- | --- | --- | --- | --- | --- | --- | --- | --- | --- |
| AL | AK | AZ | AR | CA | CO | | DE | FL | GA |
| HI | ID | IL | | IA | KS | KY | LA | | |
| | | MS | MO | | MT | NE | NV | | |
| NM | | NC | ND | OH | OK | OR | PA | RI | SC |
| SD | TN | TX | UT | | VA | WA | WV | | WY |
To report errors or updates on the above tables, please email George Cushnie.
Local Ordinances
Numerous jurisdictions have established legal requirements to reduce wood smoke. For example, some communities have restrictions on installing wood-burning appliances in new construction. The most common and least restrictive action is to limit use at those times when air quality is threatened. The appropriate agency issues an alert, similar to the widespread Ozone Action Day alerts. For more information, contact your local city or county government.
More Resources
EPA's Burn Wise website. A partnership program of the U.S. Environmental Protection Agency that emphasizes the importance of burning the right wood, the right way, in the right wood-burning appliance.
Choosing the Right Wood Burning Stove. Today's wood stove models feature improved safety and efficiency--they produce almost no smoke, minimal ash, and require less firewood. While older uncertified stoves release 15 to 30 grams of smoke per hour, new EPA-certified stoves produce no more than 4.5 grams per hour.
EPA's Burn Wise FAQs. This page provides answers to questions EPA has received about wood-burning appliances and wood smoke.